Having your own website sounded like such a good idea! It seems like everyone has one, and you have information you want to share. But now you're feeling a little overwhelmed by the new language and terminology; and you have questions -- a lot of them!

Where do I start ?
What is this HTML stuff ?
Do I have to learn HTML?
How do I add a photo to my page ?
How do I link my second page to my home page ?
How do I get my pages on line ?
Is there an easy way ?

Well, some ways are easier than others; but creating web pages is not hard. These tutorials are meant to answer some of the questions that all of us had when we were beginners at web authoring. They were written for RootsWeb Freepages users, but will work for most sites on most servers. The following are "must reads".

Very Basic HTML - Even if you use a WYSIWYG editor to create your web pages, I urge you to learn the basics of HTML. There is no substitute for knowing how and why web pages work -- or do not.

Your Genealogy Website - Genealogy websites have some unique features and problems. You'll find some suggestions here.

Getting started with FTP - There is more than one way to upload your pages to the server.

The links at the right cover additional topics. How to add "fun" things such as counters and guestbooks, using forms (MailMerge) for visitor feedback, help for WebTV users, and tutorials written by other Freepages users.

The Freepages-Help mailing list is a wonderful resource for answers to questions about building your Freepages website. You must be subscribed to post to the list, but you will find answers to many of your questions in the List Archives. The "Search" and "Browse" buttons will take you directly to the archives for the list.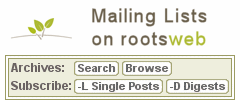 Freepages-Help





* * * * *

For many of us, our genealogy research can be much more than just a casual hobby and its significance in our lives is often the reason we want to share it by creating a website. But it is sometimes difficult to explain our passion for searching dusty attics and squinting at ancient deeds or letters to those who do not share our enthusiasm. A fellow researcher posted her eloquent explanation on the RootsWeb Message Boards, and she has graciously given permission for me to reprint it here:

Genealogy is history and there are lessons to be learned.
Genealogy is entertainment -- a mystery to be unraveled or a puzzle to be solved.
Genealogy is a way of connecting with family in the here and now.
Genealogy is a way of understanding the contributions of those who came before us and our obligations to those who come after us.
Genealogy is a way of honoring the individual life of an ordinary person.